Healing Scoliosis Through Pilates in the Twin Cities
Mogo Pilates' lead instructor, Victoria, has her certification from the Scolio-Pilates® Program with Karena Thek and is the only Authorized Scolio-Pilates® practitioner in Minnesota and the Midwest. Located in the greater Minneapolis metro area, the goal of the program is to help clients achieve a neutral spine through exercises that elongate, support and strengthen the body. Working with people with scoliosis is one of her specialties and has helped several clients attain a stronger and more neutral spine.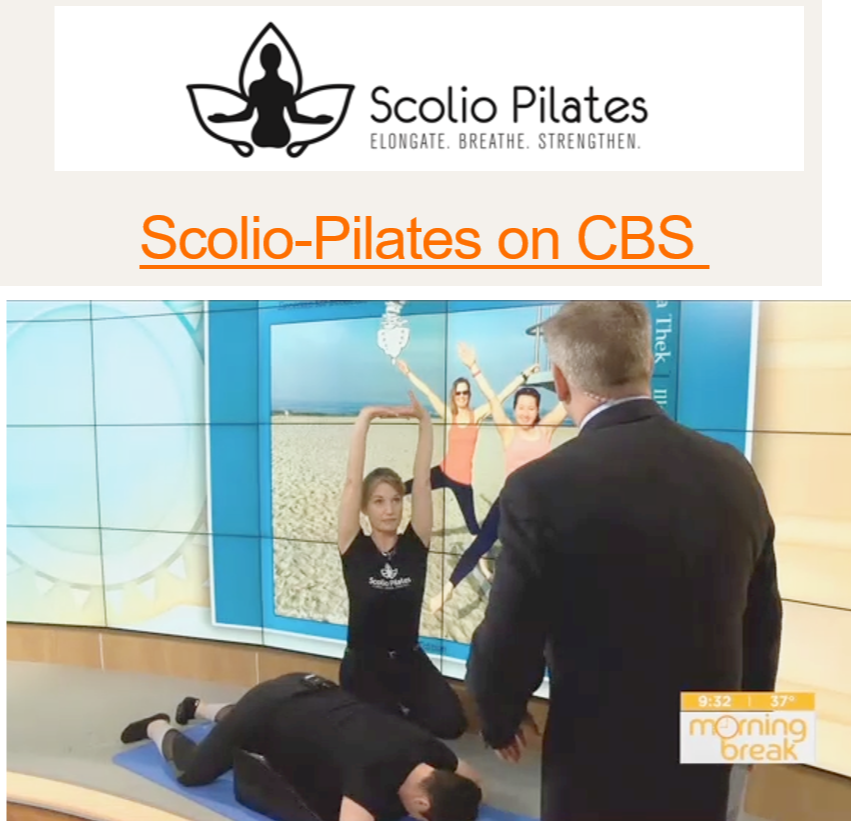 Founder of Scolio-Pilates®, Karena Thek, was featured on CBS' Morning Break. She demonstrates the techniques and benefits of this unique Pilates method. Victoria of Mogo Pilates is the only certified Scolio-Pilates® instructor in Minnesota and has helped many of her students with scoliosis.
Mogo Pilates is the Only Certified Scolio-Pilates® Studio in the Minnesota
The Mogo Studio is located just outside of Minneapolis in the Wayzata and Minnetonka area. It is fully equipped with equipment and products made especially for Scolio-Pilates® which will assist the client with exercises during lessons.
Scolio-Pilates® Equipment at Mogo Pilates
Scolio-Wedges
K2 Spine Wedge
Scolio-Pilates® Program Options with Mogo Pilates
There are various ways to participate in the Scolio-Pilates® program at Mogo including weekly and intensive programs. Both programs will include a complete assessment of your scoliosis curve and an exercise system customized for you to:
Create a more neutral spine with wedging
Utilize breathing within movements to achieve a neutral spine
Strengthen the spine once at neutral
Provide elongation for your scoliosis
Develop a system of fascial involvement to sustain a neutral position
Weekly Scolio-Pilates® Program
To achieve the best results, a new student would come 2-3 times a week for customized and private lessons. Each lesson would focus on helping the student achieve realignment, elongation, and strengthening within the spine with 3-dimentional exercises.
Intensive Scolio-Pilates® Program
If the client is traveling from long distance or would prefers more lessons in a concentrated time, then the Intensive Scolio-Pilates® program would be a great fit. A customized program would consist of 3-4 hours a day of lessons for 4-10 days. This allows for the student to learn and create a Scolio-Pilates® exercise program for the student to continue at home.
Find a Scolio-Pilates® Program in Minnesota
Please contact Mogo to learn about availability and customized plans for Scolio-Pilates®.
Pricing for Scolio-Pilates®
Private Sessions:
Single Private Session: $75
Five Session Package: $365
Ten Session Package: $700
Twenty Session Package: $1300
Semi-Private Sessions:
Single Session: $45
Ten Session Package: $400
Mogo Pilates accepts cash, check and Venmo. Feel free to contact us with any questions regarding pricing.
Participation forms available for download:
Scolio-Pilates® Program by Karena Thek
For more about the Scolio-Pilates® Program by Karena Thek please click here to be redirected to their site.